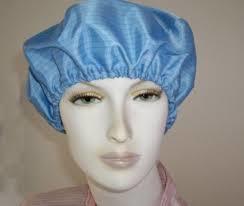 ESD Head Caps
Product Code : KP_esdheadcap
Product Description
Head covering & face mask : surgical caps feature non-linting kaycel fabric with a polypropylene top for breathability. Kaycel is an absorbent material that will trap perspiration keeping it out of the user's eyes.
color: blue / white
applications: medical, clean room, critical environment, food handling/production, industrial manufacturing
types of face masks
1/2/3-ply normal non-woven face mask : it is made of a breathable fabric with efficient filtration, and minimized particle generation, free of silicone oil or odor.
4-ply carbon face mask : the 4-ply active carbon face mask is composed of pp non-woven cloth on the top and bottom layers. The middle two layers are active carbon filtration material and melt-blown non woven cloth. This kind of face mask is odorless, can filtrate bacteria, dust, micro granules, and organic poisonous gases effectively.
clean room face mask : it is made of es material, with the pu head-loop or ear-loop by clean woven material with high elasticity. It feels soft and comfortable against the face and will not cause harm to user. It widely applied in industrial clean room and production environment which demands high cleanness.